Last month, some members of the PICK-PLACE consortium attended LOGIMAT 2019 fair (Stuttgart, Germany, 18-21 February 2019). The fair has been an excellent occasion to learn more about the latest trends in the sector, and has provided interesting feedback for our project. Oier Álvarez, Research and Innovation engineer at ULMA Handling Systems, answers the interview.
As ULMA Handling Systems, why did you decide to attend LOGIMAT 2019 fair?
ULMA Handling Systems has attended this fair since 2015, the last two years exhibiting our own machinery in the stand.
From the logistic point of view, LOGIMAT is the most important fair in Europe and one of the most recognized events around the world. 
This fair is the best meeting point for our potential clients coming from different places of the world, consequently business opportunities and the chance of being close to our clients are the main objectives for us.    
What did you exhibit in the fair? Could you explain the feedback you received?
This year we have exhibited a global intra-logistic solution, simulating a whole process starting from totes manipulation with a shuttle and finishing with an automatic order preparation phase in a robotic cell.
Apart from that, during these three-day-fair, we displayed videos about different installations, in order to show our intralogistic solutions' portfolio.
Our potential clients have shown a big interest in automatic order preparation and in our intralogistic solutions, we come back from LOGIMAT fair with a really good feeling.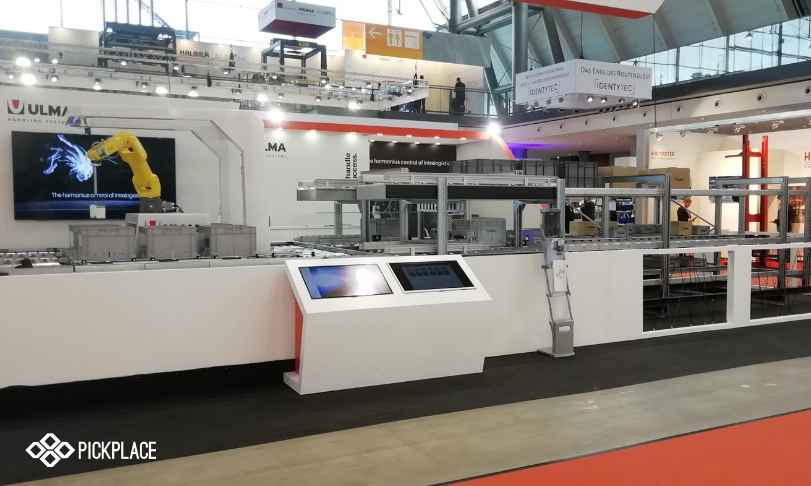 General view of ULMA Handling Systems' stand at LOGIMAT 2019 fair.
Which relevant innovations or trends in the sector did you see in LOGIMAT 2019?
This year augmented and virtual reality technologies have been exposed in many stands and some specialized companies have visited us.  
Autonomous guided vehicles have been another trend which has increased its participation.
In order preparation solutions, more and more competitors are focusing their efforts on multi-reference and multi-format bin-picking solutions.
From the perspective of PICK-PLACE, which ideas do you bring back from LOGIMAT?
In this year's LOGIMAT fair, more and more suppliers and competitors have exhibited different multi-grasping technologies.
Vision-system technologies for object recognition have been another important point to consider.  
In general, there's been a decrease in the presence of collaborative robots, whereas industrial robots with security laser scanner enabling human-robot coexistence have increased.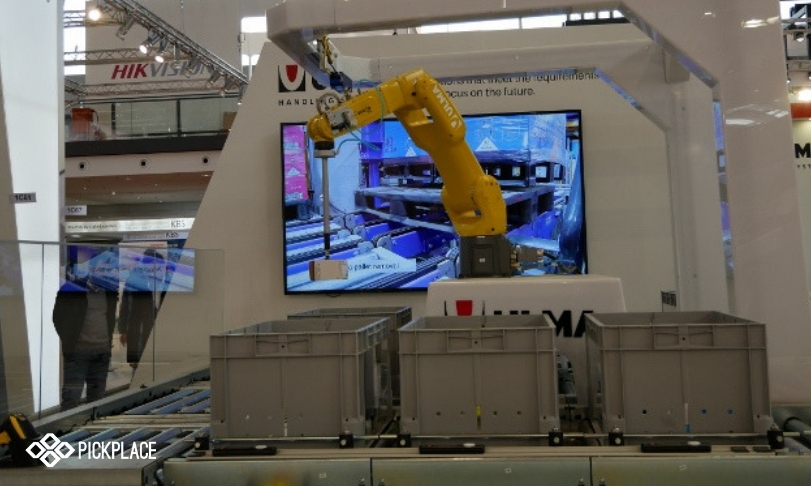 Demonstration in display at ULMA Handling Systems' scenario.